Description
SMOK G-Priv 2 Luxe Kit
The SMOK G-Priv 2 Luxe Kit is SMOK's most advanced vaping device to date. It boasts a 2 inch colour touchscreen, a massive 230 Watts of power output and the very latest in device software. It builds on the success of the first generation G-Priv, adding significant design and performance enhancements. It is supplied with the SMOK Prince ank (TFV12 P-Tank) and power comes fron 2 x 18650 batteries (sold separately) and it's available in a choice of stunning colours.
The SMOK G-Priv 2 Luxe Kit features a massive 230 Watts of power, industry leading design, separate screen and fire locking buttons and an ergonomic firing bar. It has a gorgeous 2 inch colour touchscreen with configurable colour options and a newly designed user interface. The display shows all relevant vaping information including wattage, voltage, mode, vaping effect, battery level for each cell, coil resistance and number of puffs. Made from Zinc Alloy and Glass, the G-Priv 2 measures just 85mm x 52mm x 27.3mm making this box mod kit the perfect choice for all intermediate and advanced vapers.
The Prince TFV12 P-Tank is a top filling system that features adjustable bottom airflow, 2ml e-liquid capacity and a 510 threading connection.
The SMOK G-Priv 2 Kit 230W (Luxe Edition) takes vaping to a new level, combining a unique design & awesome colour touch screen with a superb tank, chipset and 230W of power.
The SMOK G-Priv 2 Kit 230 Watts (Luxe Edition) is powered by two 18650 batteries (sold separately). See the "Accessories" tab above to purchase compatible batteries.
SMOK G-Priv 2 Luxe Kit – What's Included:
1 x SMOK G-Priv Luxe Edition Box Mod (230W)
1 x SMOK Prince TFV12 P-Tank
1 x V12 P-Tank Q4 Coil (0.4 ohm quadruple coil) (Pre-installed)
1 x V12 P-Tank T10 Coil (0.12 ohm Decuple coil) (spare coil)
1 x Micro USB Charge/Upgrade Cable
1 x User Manual
1 x Spare Parts
1 x Prince TFV12 N1 Bulb Glass (supplied by us)
SMOK G-Priv 2 Luxe Kit – Specification & Features
Mod Size: 52mm (W) x 27.3mm (D) x 85mm (H)
Mod Weight: 181g
Battery: 2 x 18650 (NOT INCLUDED)
Power Output: 1 to 230W
Atomiser Resistance Range: 0.1 to 2.5 ohm (Wattage Mode) 0.06 to 2.0 ohm (Temperature Mode)
Voltage Range: 0.5 to 9.0 Volts
Firmware: Firmware Upgradeable
Temperature Range: 100 to 315 degrees Celcius (200 to 600 degree Fahrenheit)
Screen: Large (2 inches), Bright, Colour Touch OLED Screen with configurable colour options.
USB: Micro-USB Upgrade Port & Charging Port
510 Compatible: Stainless Steel 510 Thread Point with Magnetic Spring Loaded Gold Plated Contact
Ergonomics: Ergonomic Control Face with Bar Firing System
Material: Zinc Alloy & Glass Chassis
Protection: Intelligent Atomizer Recognition, Puff Monitoring System, 10 Second Cut-off, Short Circuit Protection, Over-heating Protection, Low Battery Warning
Compliance: TPD Compliant
SMOK TFV12 Prince Tank – Specification and Features
Tank Dimensions: (w x h) 25.5mm x 63mm
Weight: 62g
Material: Stainless steel providing a sturdy and blemish free build
Coils: TFV12 Prince Q4 Coil (0.4 Ohms Quadruple Core) (preinstalled), TFV12 Prince X6 Coil (0.15 Ohms Sextuble Core) and TFV12 Prince T10 Coil (0.12 Ohms Decuple Core)
Tank Capacity: 2ml (TPD Compliant)
Design: Tof Fill, Bottom Airflow, 2018 Designed Crown Body. Cobra Resin Drip Tip
Thread: 510 Threaded for easy fitting to most mods
Glass: Pyrex Glass Tube
Accessories: Full range of TFV12 Prince Family coils available to suit all vaping styles in addition to those included. See the "Accessories" tab above.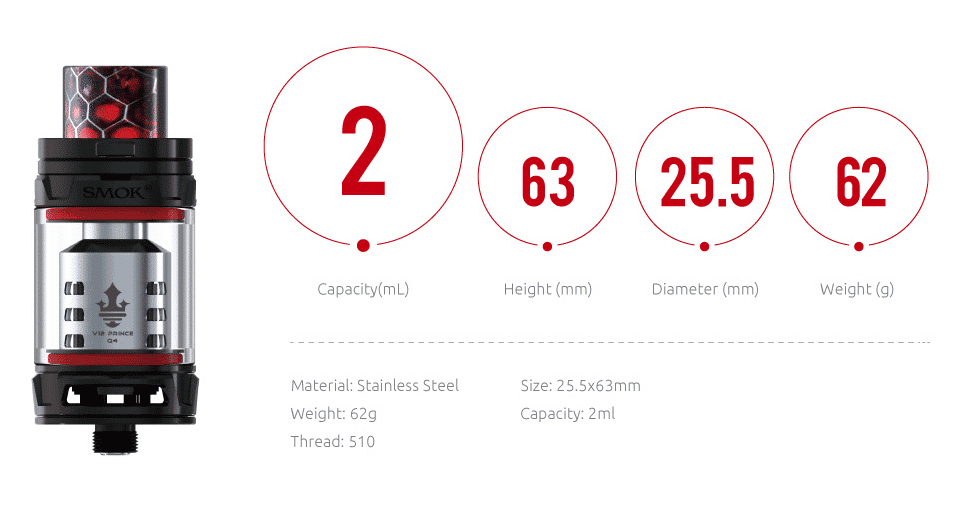 Coils for the SMOK TFV12 Prince Tank (Available to purchase Separately):
WARNING: This is an advanced Item. Please use at your own risk and always use proper precautions and handling. Due to the lower coil resistance on many sub-ohm style tanks, we would advise against using juice with a nicotine strength above 6mg. Any higher may be too harsh.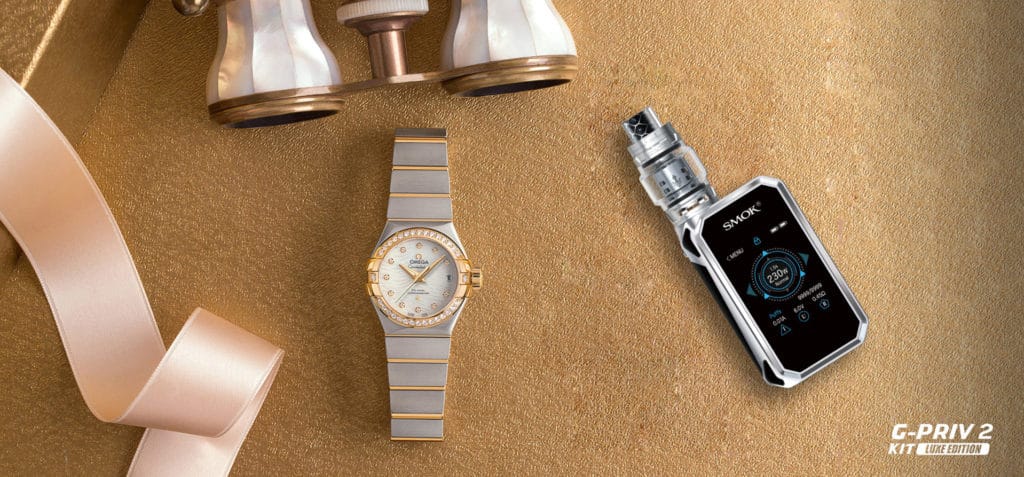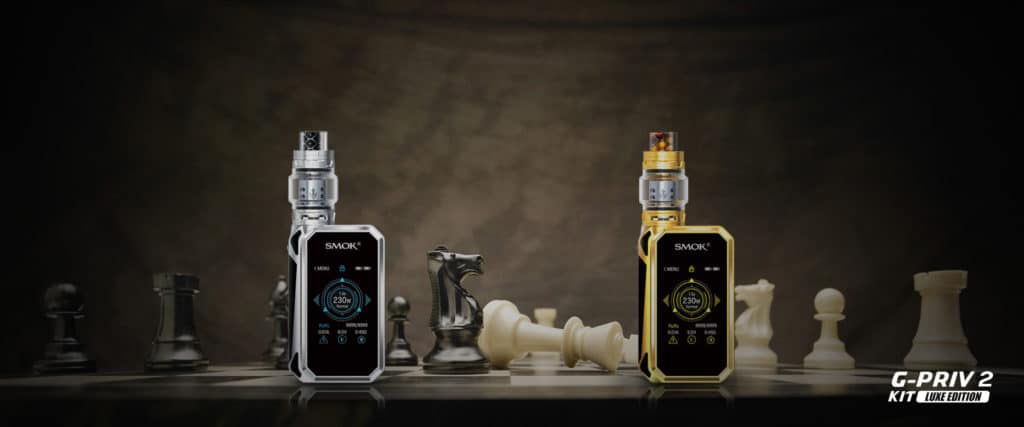 For more information visit the SMOK Corporate website.