Description
SMOK Nord Pod Kit (UK Edition)
The SMOK Nord Pod Kit is an all-in-one pod mod that measures just 95mm x 25mm x 15mm making it extremely pocket friendly. It boasts a powerful 1100 mAh internal battery which is more than double that of most other pod devices. Included with the SMOK Nord are two coils, one with a 0.6 ohm resistance made for DTL (Direct to Lung) sub-ohm vaping and a 1.4 ohm resistance made for MTL (Mouth to Lung) vaping. Fill the pod with up to 2ml of your favourite e-liquid or nic salt and enjoy a smooth, satisfying flavour no matter how you choose to vape.
The SMOK Nord Pod Kit is designed with a duck-billed mouthpiece for better airflow and greater comfort. There is one button on the Nord which incorporates an LED light to indicate the battery level. Five clicks of the button turn the SMOK Nord on and off. Press and hold the button to fire for vaping. It couldn't be easier! This portable pod mod has the best of both worlds, making it perfect for both new and experienced vapers.
A built-in chipset provides not only important safety protections such as reverse polarity and short circuit protection; it also instantly recognises which coil you have installed and adjusts the wattage instantly providing you with a consistent vape either way.
The 2ml refillable pods feature a side-filling port which will fit most standard bottle nib sizes and a rubber seal to stop leaking when filling and using the Nord. Two coils are included in the kit, a 0.6 Ohm mesh coil for sub ohm vaping or a 1.4 Ohm standard coil for mouth to lung vaping.
Newer users are advised to try the mouth to lung coils first, it produces a smaller amount of cloud and creates a tighter draw that's similar to a cigarette. If you're looking to create large clouds we recommend using the mesh coils, if so you'll benefit from faster heating as well as a clearer flavour from your e-liquids.
Certain e-liquids can be used with each coil. The mouth to lung 1.4 Ohm coil has been designed for high PG e-liquids that are 50% PG or higher, including salt nicotine blends. The 0.6 Ohm mesh coils support higher VG e-liquids that are 60% VG or higher.
Overall, the Smok Nord pod kit is suited to almost all users whether you're looking to try vaping for the first time or want a highly portable back-up device that still produces an excellent vape.
SMOK Nord Pod Kit (UK Edition) – What's Included:
1 x Nord Pod Mod with 1100mAh Built-in Battery
1 x Refillable Pod (UK Edition 2ml)
1 x SMOK Nord 0.6 Ohm Mesh Coil (DTL Sub-Ohm)
1 x SMOK Nord 1.4 Ohm Regular Coil (MTL)
1 x Micro USB Charge Cable
1 x User Manual + Warranty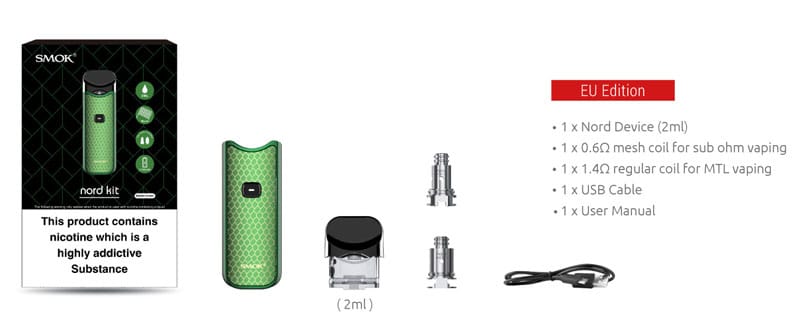 SMOK Nord Pod Kit (UK Edition) – Specification & Features
Mod Size: 18.8mm (D) x 94mm (H) x 30mm (W)
Weight: 80g
Battery: Built-in 1100mAh Rechargeable Battery
Maximum Wattage Output: 10 to 15 Watts
Input Voltage: 3.3V to 4.2V
Ergonomics: Fire Button with colour LED Battery Life Indicator.
Protection: 10 Second Cut-off, Short Circuit Protection, Low Battery Warning, Low resistance protection, Puff Monitoring System, Intelligent Atomizer Recognition, Over-Heat Protection, Low Voltage Protection
USB: Micro-USB Charging Port
Compliance: TPD Compliant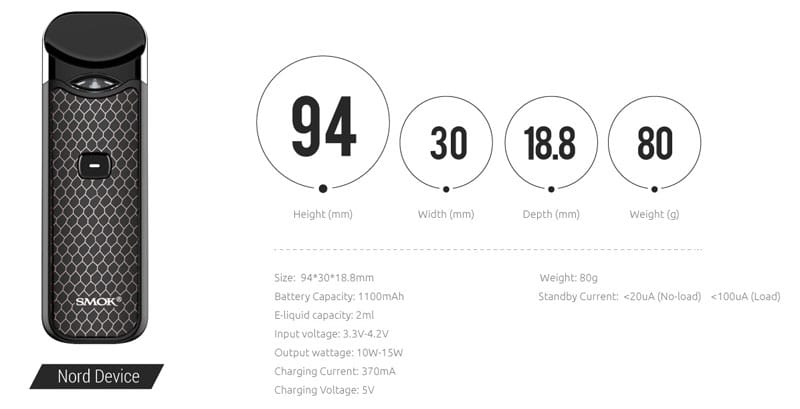 Coils and Accessories for the SMOK Nord Pod Kit (available to purchase separately):
For further detail visit the SMOK Corporate Website.