Description
Innokin EQs Pod Kit
The benefit of kits like this is that they're simple to use and maintain. This means they're recommended for first-time vapers as well as experienced vapers looking for a discreet and portable device. The single button on the device serves to operate and lock the device.
Finding that balance between cloud and flavour production allows you to vape comfortably, the EQS offers three power output levels – 11W, 13.5W and 15W. Choosing a lower wattage will result in less vapour being produced, and if you're after an increase in flavour and cloud you can pick a higher wattage.
Each 2ml EQS pod can be refilled multiple times before needing to be replaced. You can use a range of high PG e-liquids that contain 50% PG or more, including salt nicotine and CBD e-liquids. This is thanks to the 0.48 Ohm Plex 3D mesh coils that offer a boost in flavour thanks to the mesh build. This kit is also compatible with the refillable EQ Pods.
Overall, the EQS is a smart and reliable pod kit that offers users a simple option they can use day-to-day with minimal upkeep.
Purchase replacement pods for your Innokin EQs Pod Device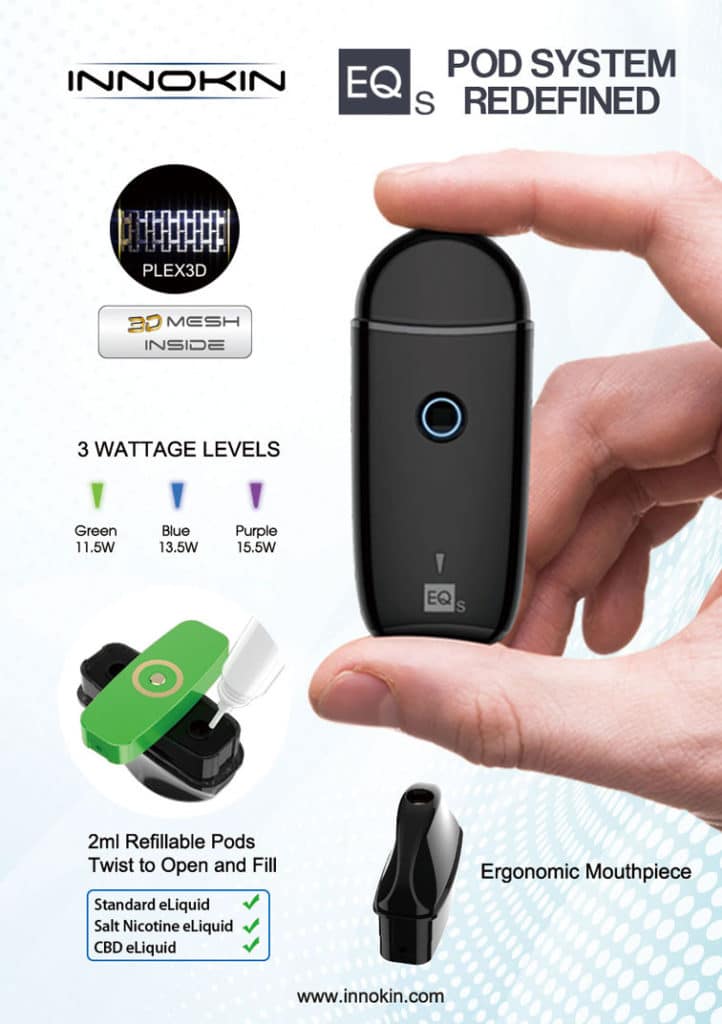 Colours Available: White, Sky Blue, Grey, Pink, Purple, Black
Innokin EQs Pod Kit – What's Included:
1 x EQS 800mAh battery mod
1 x EQS 2ml Refillable Pod with Plex 0.48 Ohm Mesh Coil
1 × USB Charging Cable
1 × Quick Start Guide
1 × User packet(Warranty Card, Warning Booklet, Battery Warning Card)
Innokin EQs Pod Kit – Specification & Features
800mAh Built-In Battery
Ergonomic, Durable Construction
Single Button Operation
Three Power Levels (11, 13.5 & 15 Watts)
Innovative twist top cap for easy refill
2ml Refillable Pods
Advanced Plex 3D Mesh Coils
Compatible With High PG E-Liquid, Nic Salts & CBD E-Liquid
Supports MTL Vaping
TPD Compliant
For further information visit the Innokin Corporate Website