UK Vaping Laws 2017 (TPD) – What does it mean for our customers?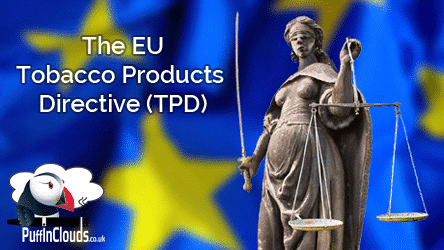 UK Vaping Laws 2017 (TPD) – On the 20th May 2017 the Tobacco Products Directive (TPD) will come into force. As this was enacted into UK law early last year, the Brexit vote to leave the EU will not effect this current legislation. Only a repeal of the law in UK parliament could change the new regulations.
UK Vaping Laws 2017 (TPD) – What does it mean for our customers?
Maximum refill containers can not exceed 10ml
From May we can only supply E-Liquid in 10ml bottles. As a business we only ever sold 30ml bottles so for us the change is significant and it has a major impact on our customers. Most buy 30ml bottles in quatities of six or more. It means our average customer now has to deal with three times the amount of bottles and packaging. The knock on price increase for Purity and eVo is £1.98 per 30ml of e-liquid. We're introducing bulk discount vouchers on 10ml bottles to try and ensure our customers pay no more that they did before TPD. However, those customers just buying a few odd bottles will lose out. That said, introducing 10ml bottles will allow individuals to try a new e-liquid without paying for a full 30ml bottle.
The major reason for limiting e-liquid bottle size to 10ml in Europe is to reduce the risks associated with a poisonous substance. A 30ml bottle of e-liquid with 12mg strength could potentially kill a child. TPD will also mean all 10ml bottles have child proof lids – something that we welcome. That said, Purity and eVo have always had child proof lids on their 30ml bottles.
Maximum tank capacity of 2ml
All refillable tanks with a tank capacity exceeding 2ml will have to be withdrawn from sale on the 19th May 2017. This will be a major annoyance to our customers who generally use tanks with an e-liquid capacity of between 3ml and 4ml. The impact will be that customers have to refill twice as many times throughout the day. Combine that with the reduced e-liquid bottle size and you've got a law that in our opinion increases the risks to children – the exact opposite of what it's designed to do. Parents will need to police three times as many bottles and the need to refill more frequently will increase the risk of bottles being left in child accessible places, ie. coat pockets, car glove boxes, handbags etc.
Maximum nicotine strength of 20mg
This won't really impact on our customers as we've never offered e-liquids in strengths greater than 18mg.
Product Certification, Packaging Requirements, Customer Notifications and Data Reporting
We welcome most of this change for the industry as a whole but our customers will see no real difference. We've only ever sold the highest quality e-liquids and manufacturers such as Purity and eVo have always used the highest quality ingredients, had third part product testing, use child & tamper proof bottles and batch / date coding.
UK Vaping Laws 2017 (TPD) – Vaping in 2017
So 2017 will be the year of change for electronic cigarettes in the UK. The industry needed regulating but as with so many EU laws, you have to question the wisdom of parts of the new regulations. You will see slight price increases and a reduction in choice but things will settle down.
At Puffin Clouds we have been preparing for compliance for the last 8 months and are well positioned to adapt to the changes. We now offer all our e-liquids in 10ml variants. We will be introducing new TPD compliant tanks over the next two months and we will continue selling our 30ml e-liquids, whilst stocks last, until the 19th of May 2017.